Amerton Farm
Family Owned & Run
Amerton Farm first opened it's doors to the general public in 1984. The business was started by Anne Williams, who sold cream and eggs from the back door of the farmhouse, before opening the Tea Room which was then quickly followed by other enterprises. The farm was then taken over by Anne's son Paul who continued to develop the site which is now owned by Eunice Finney ARAgS. The Finney family have lived and worked at Amerton Farm since 2002. Eunice's late husband Bill purchased the farm from the Williams, in 2015. The family took over in May 2016 and we become a limited company in 2017, Eunice is the Managing Director of Amerton Farm Ltd, daughter Amy and son Richard are both Directors, son in law Alex is the Farm Manager.
Our aim is to provide an enjoyable experience for all the family every time you visit us, we pride ourselves on excellent customer care delivered with a smile. We offer children's fun, retail, and fine Staffordshire food along with many other attractions for you to enjoy. We have carried out extensive changes to Amerton Farm since we took over to ensure we provide an excellent experience for all our customers. You can keep up to date on all the news, events and progress by following us on social media.
We would like to take this opportunity to extend to you a warm welcome to our farm and home for a quality day out in the beautiful Staffordshire countryside.
Look forward to seeing you all at Amerton Farm soon.
Eunice, Amy, Richard, Alex, Elsie & Edith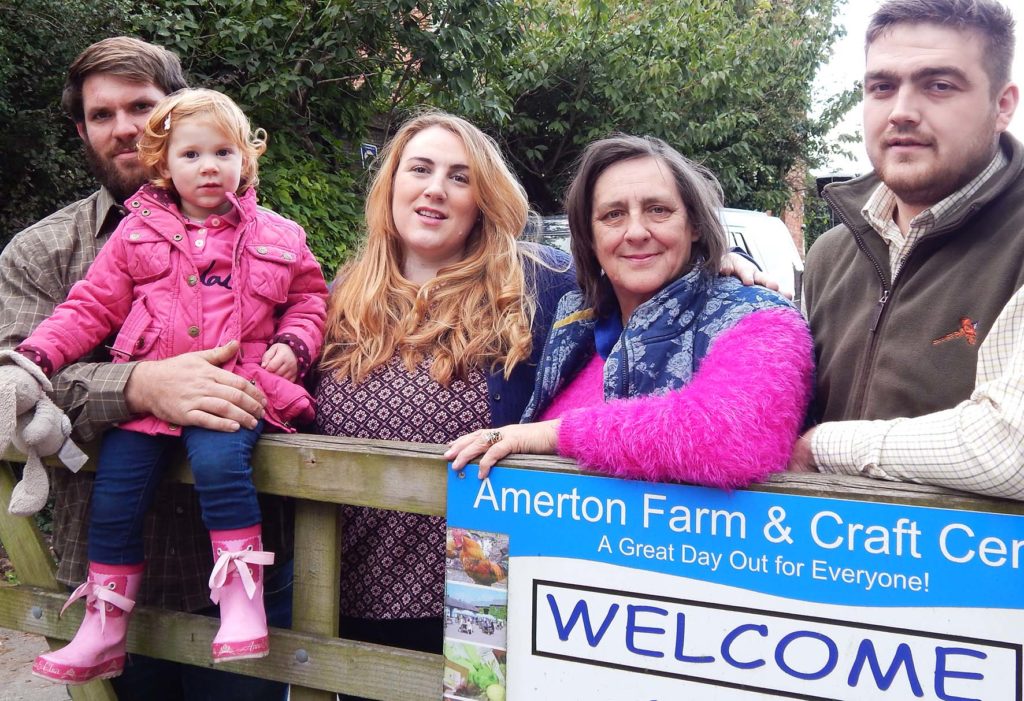 Left to right: Alex, Elsie, Amy, Eunice and Richard